Get rid of DDoS threat
Web Server Protect protects your website against all types of DDoS attacks including network, protocol and application level attacks. Our global network capacity can mitigate any size attack that comes your way. The service automatically detects and blocks DDoS attacks with dedicated 24/7 NOC and enterprise-grade uptime SLA even when under attack.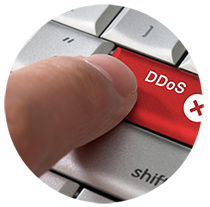 How it works?
High-capacity network
Nowadays, DDoS attacks are more and more effective and companies need high network capacity to mitigate this growing threat. Web Server Protect CDN is large enough to face multi-gigabit DDoS attacks and will let your website safe.
Automatic detection & activation
This features enables DDoS protection service to take full responsibility for both detection and mitigation of all attacks and give you peace of mind.
Real-time monitoring
Web Server Protect provides accurate visibility into layer 7 traffic. Thus, you can analyze in real time the malicious traffic on your website and adapt your security measures. You can use this live report as a powerful security tool to help you respond to DDoS attacks or any unexpected event.